Cages & Cubes: Consciousness & Merchandise
Upon entering Delicious Pizza on Adams Boulevard, I enter the history of Delicious Vinyl and its contribution not only to Los Angeles hip-hop, but the flavor of hip-hop through its pizza shop. The shop's curated walls of hip-hop memorabilia, and its tasty food, puts me in a headspace of legendary and iconic symbols and good Feng Shui.
Buzzing off this energy, I walk into the space next door, curiously called the Infinity Room, where a show called Dreamland takes place. I am greeted by Jordan Sands, AKA "Mr. Dreamhaus." He hands me a risograph-printed handout with the Dreamhaus mission statement, written in epic poem form. On the flip-side is a short, visual catalog of Dreamhaus merchandise available for purchase. I notice a couple large boxes chock-full of toys by the entrance, being that the show is also a toy drive benefit.
INSTALLATION
The first thing that captured my attention was the morphed graphic on the wall, which questioned my perspective in the room. The graphics came from the 1991 film, Boyz n the Hood, which I felt fitting to current ideals of gentrification in Los Angeles, and essential to a native's growth beyond South Central, Los Angeles. The artist's choice of words— "Once upon a time," and "Ain't no fairytale" were uniquely painted on adjacent walls of the space. I enjoyed the directness of using the movie as a clear reference to the neighborhood of South Central, and more specifically, the trials that youth deal with in questioning identity in an impoverished environment. This was further juxtaposed by a playful illustration of the text in a naive, "Rugrats" type of way. This visual representation was great for young adults like myself who are intimidated or feel like the non-profit sector is not intended for them to understand. Also, people like myself always want to give back to the next generation and take action, yet feel hesitant to trust impersonal charities. I sincerely appreciated the inclusion of Dreamhaus' introduction of their organization by mission statement, as well as how they presented their voice and values firsthand.
I looked up at the ceiling and was happy to see a heavenly glow of light bouncing off of colorful, foiled balloons in the shape of butterflies and felt transported back to adolescence. Other additive elements were basketball flower pots potted with living plants and a graphic poem displayed on the wall in fluorescent orange. The poem was the same text that was printed on the souvenir when you were greeted by Mr. Dreamhaus, which is Dreamhaus' mission statement. A practical assumption of a non-profit organization's mission statement is to be stale, and to feel copied and pasted from a pre-existing organization using general language. Just viewing the interactive text approach felt inviting, which was surprising because I usually get turned off by large bodies of text in art-viewing situations. In this body of text, you feel like you have discovered a unique gem in a pool of rocks and also feel the sense that this organization has something to prove just as much as the students they serve and the environment that they're in. Everyone wants to see and hear real and authentic stories shared by an organization that relates to the community it serves.
After experiencing the main room, I was presented with drawings from children that had the same visual elements as the murals on the walls, with added radiant abstract markings. It was interesting to see controlled abstract work done by children. After this experience, I walked through a curious black curtain and was welcomed by glowing text that said, "Dreamland" in Disneyland font, in a black-lit room. Glow-in-the-dark stars filled the room from wall to wall and merchandise hung about, highlighting the glow-in-the-dark printing aspects not visible when in the main room. Because of the furniture in this room, you felt this was a place where you wanted to lounge and kickback.
MERCHANDISE
The merchandise was nothing you expect from a non-profit organization. The graphics and color palette were innovative and engaging with a youthful feel. The merchandise had tiers of price points. The first being a water bottle for $15, the second being a hoodie for $50, the third was an insane tote bag with a 360 degree pocket that I have never seen done before (for $80) and lastly, a $150 canvas "utilitarian" vest that had an interesting back pocket that I felt was unique and useful for an artist. Everything had a relationship with the overall installation— nothing seemed out of place and was carefully thought out.
The graphics on the water bottle were the same as on the walls. The hoodie had the text that was on the wall as well and also a uniquely styled butterfly that was drawn in the same naive style as the text on the walls. The tote bag seemed like it was the notable piece based on people's reaction to the design and functionality. The neon-colored, transparent pocket on the tote bag stole the show— definitely a must have. Last, the utilitarian vest uniquely had sportswear references, with its athletic collar and moreover had a relationship with the flower pot basketballs, which were either hung by basketball net-inspired hangings or sitting on shelves. Using sports and youthful aesthetics into artist essentials created a clear identity of this non-profit organization.
BUSINESS MODEL
The handout expressed "For every product sold, a child in South Central will receive an ARTKIT." The obvious question is: what is in this ARTKIT? It was explained to me that the ARTKIT is essentially how the team came up with the design and inspiration for the merchandise and the installation. I felt that was incredible in the aspect of teaching children an entrepreneurial approach with a "You can do it too!" model, and best of all, that this could be sustainable. Essentially, buying the merchandise is a donation to the Dreamhaus. In a time when streetwear is the universal language of the youth, and as the commerce of streetwear has never been higher, it was clear that I was the target audience and that by my purchasing the merchandise, I was giving back to the community. The overall experience was refreshing, in witnessing a sense of community and a feeling that the youth is actually taking action in solving a problem through a model that is self-sustaining.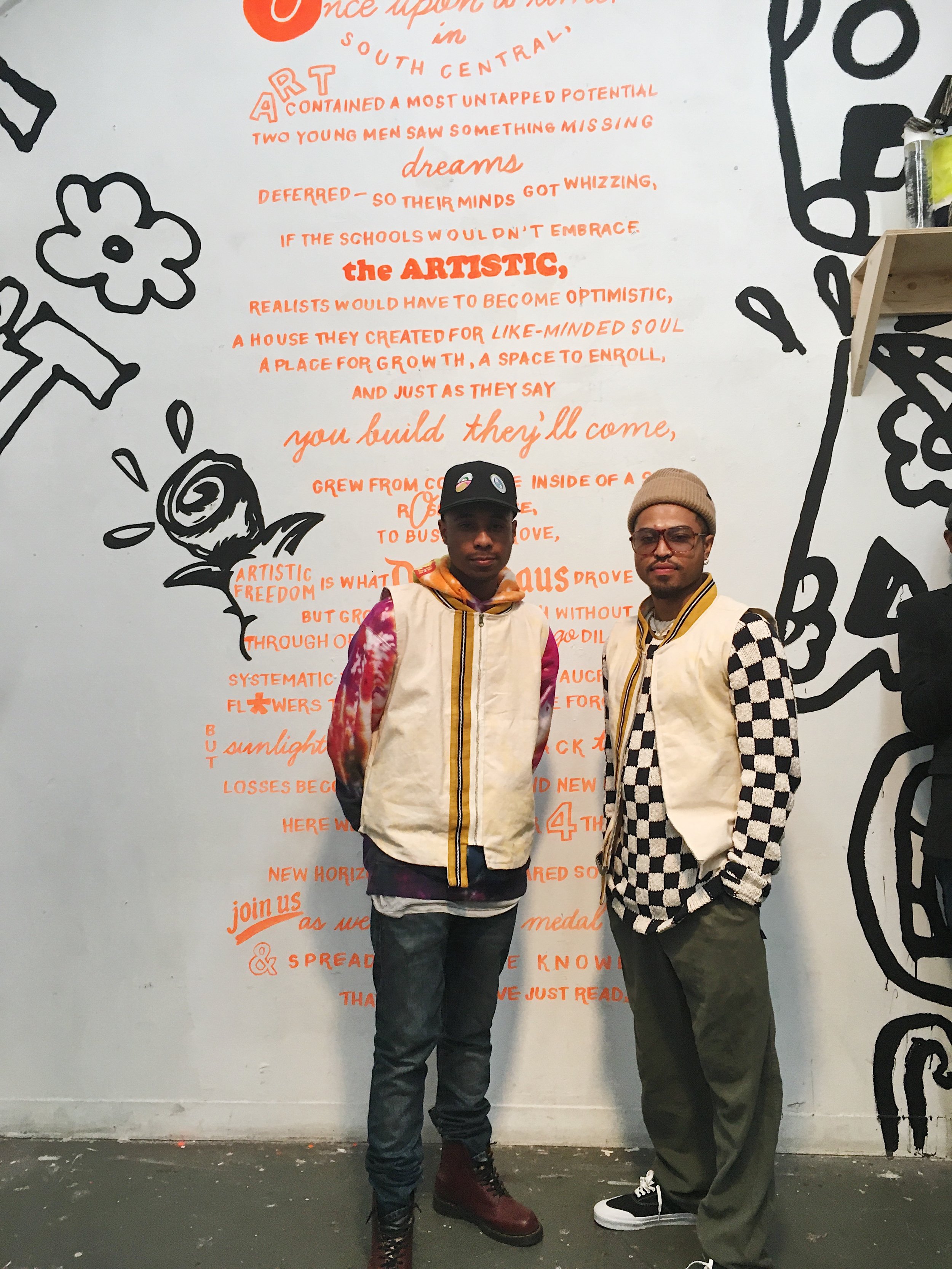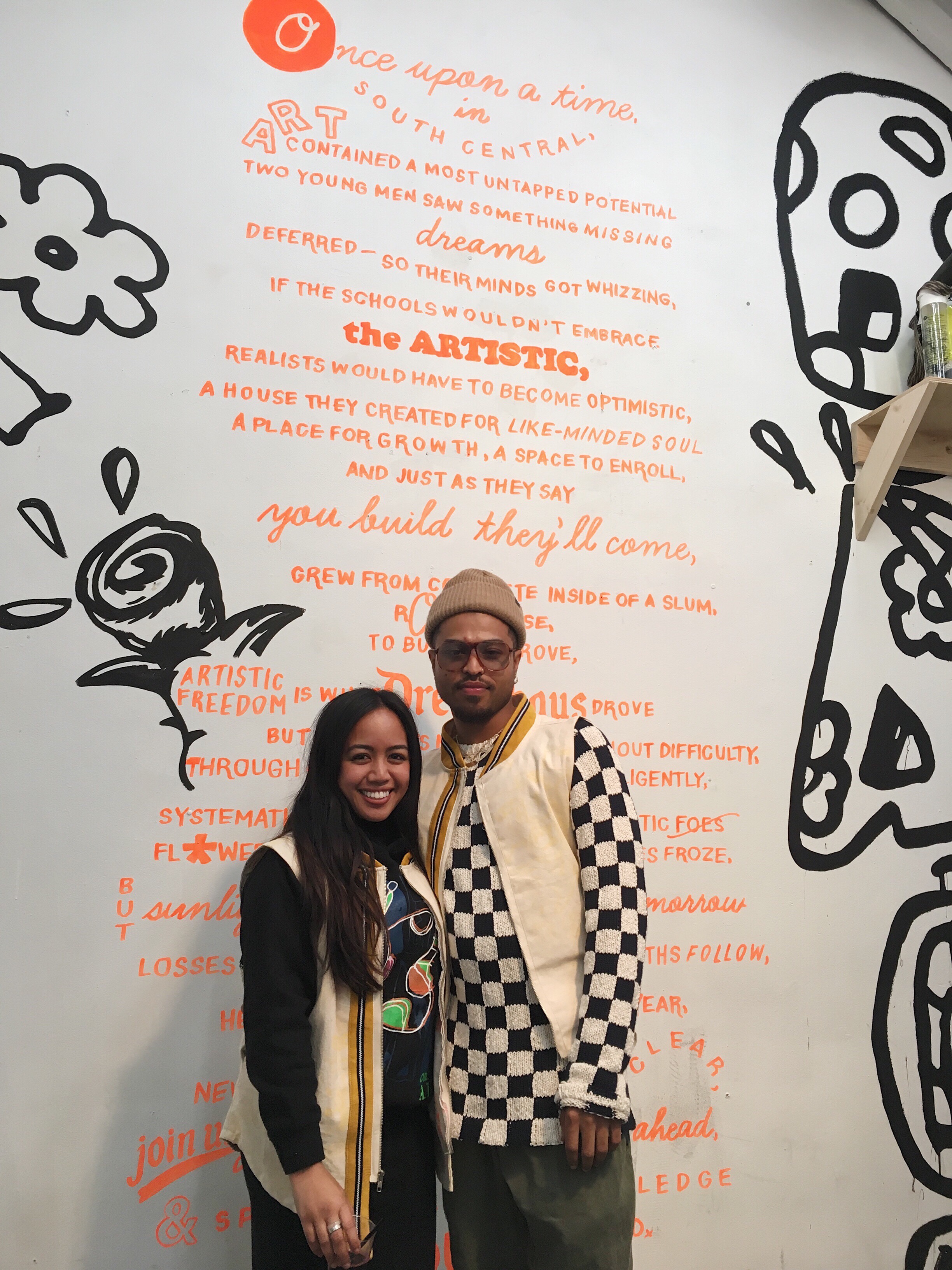 CONCLUSION
The installation, Dreamland, was a refreshing approach to describe a problem via shared cultural references of the community and its culture. It has presented a new model of action and results.
With all donation-based philanthropy, there is always speculation of three things:
1. Where is my money really going?
2. How valued do I feel to this organization and the issue I'm serving?
3. Is the organization's solution to the problem, in light of our current political climate as well as trendiness in protest— actually presenting clarity in impact and solutions?
 
Dreamhaus' art installation at the Infinity Room in West Adams was an environment complementing the ideas of commerce and identity. In an ecosystem of mass consumption through social media, Dreamhaus opted for a physical installation that could be experienced in person, and in clarity. My expectation of a non-profit organization is to be presented with a long list of issues in a community and a not-so-unique way of approaching, solving or mediating said problem. The products and merchandise presented at Dreamland had a visual language and a shared storytelling component, which made it clear that Dreamhaus serves students in the South Central area in Los Angeles and therefore serves an ongoing national/global/universal issue — lack of art programming in schools. I further welcome the organization's fresh approach of not pushing statistics down the viewer's throat or making the viewer feel like an outsider to his or her own community— but rather giving them a sense of celebration and appreciation.
PHOTOS BY: Charlie White & Jordan Sands
Nikkolos Mohammed
Los Angeles based visual artist that investigates social constructs through objects and painting mediums.